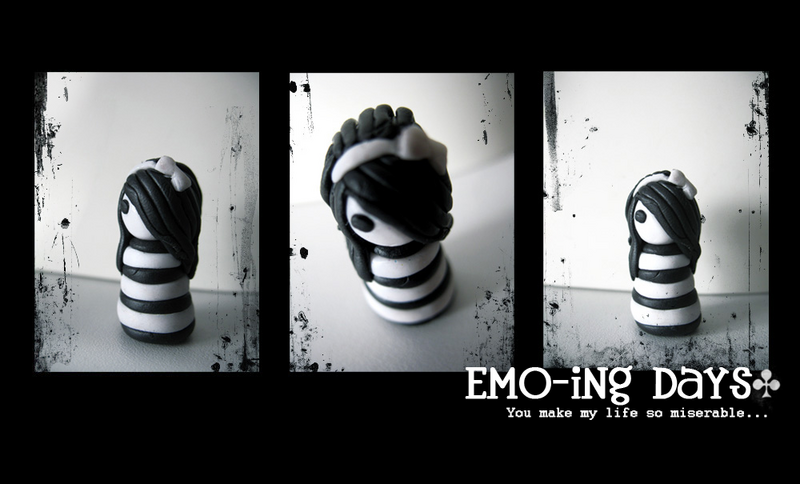 Monday, August 23, 2010
Ya Allah..........
N my EMO LOVE
5:48:00 AM

it has been more than a year since i last updated this page..
it is fasting month right now.. soon we will be celebrating Hari Raya Aidilfitri...
i wanna sleep.. too tired... will update often aite.. insya allah.. gd nitez peeps! dun forget to wake up for sahur.. :D
N my EMO LOVE
12:14:00 AM

Monday, August 10, 2009
Values:
Freedom
Adventure
Variety
Joys:
Fun
Adventure
Performing
Strengths:
Independence
Flexible
Optimistic

Needs:
Freedom
Money
Recognition

Frustrations:
Being on time
Unnecessary Routine
Lack of Money

At work you are bored and restless with jobs that are routine and structured and satisfied in careers that allow you to have independence and freedom. You are a natural performer.

In love you seek a relationship with shared activites and interests. With your mate you like to explore new ways to energize the relationship. You need to be bold and thrive on physical contact. You enjoy giving extravagant gifts that bring obvious pleasure to your loved one.

In your childhood you have the most difficult time fitting into academic routine. You learned by doing and experiencing rather than by listening and reading. You needed physical involvement in the learning process and were motivated by your own natural competitive nature and sense of fun.
N my EMO LOVE
7:01:00 PM

Tuesday, August 4, 2009
i don't know why for the pass few days i've been feeling restless..

always thinking of FAMILY..
FRIENDS..
i don't know if i'll be able to achieve my dreams..
FAMILY =>
soon it will be fasting month.. i'm looking forward to it.. it's a month where i really
feel at ease.. don't ask me why.. haha!
after that it will be HARI RAYA.. for now i feel like it's useless.. will i be able to meet my cousins like the past few years? if we do, will we be able to communicate with each other or will we be like STRANGERS.. It's no use seeking for forgiveness when u, urself know that u are doing it just for the sake of doing it.. sometimes i just wonder what do they see in my family.. we are not rich.. we always kept to ourself.. we mind our own business.. we don't go around telling the whole world of what we saw.. ur kids going out with their partners, we just kept quiet.. i think from now on i'll be just like them.. i don't fucking care even if u bribe me to keep it a secret..
FRIENDS =>
I MISS ALL OF U!!

especially those who regards me as their friend. hehe.. as for my poly friends, thanks for being there for me guys.. u shld know who u are.. i just need to find some time to spend with all of u.. sorry if when i meet u all, i disturb, i misbehave.. i may seem happy go lucky... but actually i just can't bare to say gOodbye when we went our separate ways.. i'll hold back my tears and put on a wide smile.. :)
to whom it may concern, i've tried my very best to accept your the other half.. but everytime when he's with us, there's always something that he did makes me mad.. even the slightest thing.. but don't worry i'll always pray for ur happiness and may god bless ur relationship with him.. :)
SCHOOL => it SUCKS! and i mean it.. i know i've been always on MC.. i've tried to force myself to go to school but it didn't turn out well.. i realised right now i'm much more active with my outside activities rather than my school activities.. maybe it's just the lecturers or the school system that sucks.. haha! right now there's one module that i don't know if i can make it through.. still wondering will i be able to graduate as planned..if no, i'll take things slowly and think positive..
MY LIFE =>

been EMO-ing alot.. u know what i wanna do now?? i feel like going on a cruise.. for as long as i like.. i just wanna be away.. away from everything.................
N my EMO LOVE
3:35:00 PM

D.I.S.C.L.A.I.M.E.R
NAME: SAMANIAH
*
CONTACT
rrfunck@hotmail.com
LovesY
loves
FAMILY
loves
FRIENDS
loves
MYSELF
HatesN
Hate
LONELINESS
Hate
WORKING
Hate
STUDYING
M.U.S.I.C
S.I.L.E.N.C.E

E.X.I.T.S
S.C.R.E.A.M.S
C.R.E.D.I.T.S